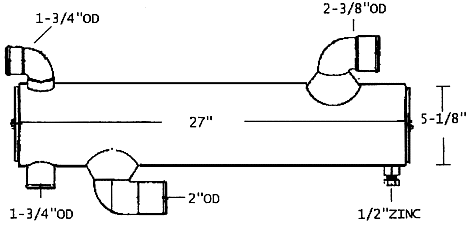 3912145 CUMMINS HEAT EXCHANGER | LE: 3912145CN | ENGINE MODEL 6C 300 HP | CUPRO NICKEL
---
LE 3912145CN replacement Cummins Heat Exchanger.
For Model 6C 300 HP.
Made with pride by Lenco in the USA, cupro-nickel for a longer lasting more durable unit, superior to standard copper made units. The Cupro-nickel tube bundle is brazed to the baffles and headers for a more durable commercial grade unit.
Replaces Sen-Dure 12610-1-7

Also available in an economy copper version.
Used on the following engines:  C GAS PLUS CM556, QSL9 CM2250 L115, ISC CM2150, QSL9.3 CM2880 L113, ISL8.9 CM2150 L110, QSL9
CM2350 L118, ISC8.3 CM2250, ISL G CM2180, QSL9 CM2250, QSL9 M CM2250 L106, QSC8.3 CM554, ISL9
CM2250, ISL9 CM2350 L111, QSL9 CM554, G8.3 CM558, G8.3, ISL9 CM2350 L101, L9.3 L105, QSL9
CM850, L8.9, QSL9 G CM558, ISC CM554, QSC8.3 CM2250, QSL9 CM2350 L107, ISC CM850, ISL
CM554, ISLE4 CM850, QSL9 CM2350 L102, ISL8.9 CM2880 L112, 6C8.3, GTA8.3 CM558, L GAS PLUS
CM556, QSC8.3 CM850, ISL CM2150, ISL9 CM2150 SN, ISL CM850
---
Share this Product
---
More from this collection